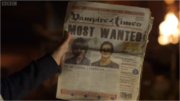 The Vampire Times is the tabloid newspaper which features in Young Dracula. It is the newspaper which Count Dracula is commonly seen reading.
Articles
The Count reads the newspaper and discovers that Stokely Castle has burned to the ground:
The Count: Stokely Castle has...
burnt to the ground.

Vlad: There are unconfirmed reports that
the eldest daughter, Ingrid, perished
in the flames.

Vlad discovers that Erin and Malik have caused quite a commotion in Paris after leaving Garside Grange. The newspaper reports that the pair bit a few tourists on the Eiffel Tower, under the heading: MOST WANTED. It also mentions the subheading (duo are causing a commotion), the date (9th of May), the reporter (Ronaldo Pritcherdo II) and the lines "…know where to look or what to do." "Erin, a new edition to the Vampire world and Malik, a ---- feral
There was an article on the back of the Vampire Times which read "BLOODSPORT BAN IS LIFTED".
Ad blocker interference detected!
Wikia is a free-to-use site that makes money from advertising. We have a modified experience for viewers using ad blockers

Wikia is not accessible if you've made further modifications. Remove the custom ad blocker rule(s) and the page will load as expected.