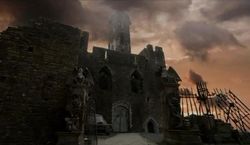 Stokely Castle, simply known as "The Castle" by the locals, is a ruined castle in the small British village of Stokely. It is the former home of the Dracula family. They moved there at short notice after being chased out of Transylvania by an angry peasant mob. At the beginning of Series 3 it was burnt to the ground by slayers.
Ad blocker interference detected!
Wikia is a free-to-use site that makes money from advertising. We have a modified experience for viewers using ad blockers

Wikia is not accessible if you've made further modifications. Remove the custom ad blocker rule(s) and the page will load as expected.