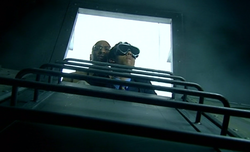 The Slayer HQ was the secret Slayer's Guild headquarters of Eric Van Helsing. In series 3, SHQ (slayer headquarters) are mentioned by the 2 slayers that are tracking Ingrid.
The location is unknown but the current leader is, as when the 2 slayers radioed them the voice that answered is Johnathon Van Helsing, indicating that he is head of the HQ.
Purpose
Storing weapons
Training slayers
A meeting point for slayers
Ad blocker interference detected!
Wikia is a free-to-use site that makes money from advertising. We have a modified experience for viewers using ad blockers

Wikia is not accessible if you've made further modifications. Remove the custom ad blocker rule(s) and the page will load as expected.