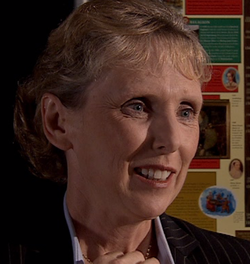 Miss Harker is the head teacher at Stokely Grammar School. She has appeared in only two episodes in the first series, "First Day At School" and "The Mummy", where she is played by Betsan Llwyd. Her full name is only seen/referenced when Chloe finds out about vampires and goes to the head teacher's office, her full name is seen on the door, 'Mina M Harker', which is a reference to the character Mina Harker nee Murry from the novel Dracula by Bran Stoker.
In series two, the roles she would normally take are done by the Deputy Head Teacher, and like the Deputy, Miss Harker died during the fall of Stokely trying to defend some pupils.
Ad blocker interference detected!
Wikia is a free-to-use site that makes money from advertising. We have a modified experience for viewers using ad blockers

Wikia is not accessible if you've made further modifications. Remove the custom ad blocker rule(s) and the page will load as expected.