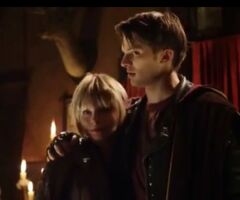 Marin
(
Ma
/lik and E/
rin
) is the pairing of
Malik Vaccaria
and
Erin Noble
. At first they didn't get along. However, after
Vladimir Dracula
bites her, they seem to get along better. In 'Loyalties Are For Breathers', they even kiss and in 'Bootiful Breathers' Malik asks Erin if she would to go out, to which she agrees. In 'Kiss of Death' - when Malik's mother
Elizabeta
attempts to stake Erin, Malik stops her, proceeding to put his arm around the newly bitten half-fang.
Alternative names
Fanfiction
Examples of fanfiction from fanfiction.net (https://www.fanfiction.net/tv/Young-Dracula/) featuring Marin are:
"Cravings-in-Paris" (Teen rated)
"What happens in Paris" (Teen rated)
Ad blocker interference detected!
Wikia is a free-to-use site that makes money from advertising. We have a modified experience for viewers using ad blockers

Wikia is not accessible if you've made further modifications. Remove the custom ad blocker rule(s) and the page will load as expected.